S01894SIL Hawkeye Spa Pillow, Large Curve, 2 pins
S01894SIL Hawkeye Spa Pillow, Large Curve, 2 pins
Product Description
S01894SIL Hawkeye Spa Pillow - Silver Pillow, Large Curve, Lounge, 2 pins.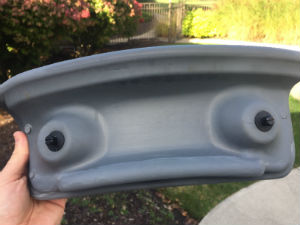 In newer Hawkeye spas (We don't have an exact date, but somewhere around 2012) this pillow will be a different mold, causing the pin alignment to be off slightly on the back of this pillow.
We believe Hawkeye may have changed manufacturers at this point. If you remove the pins from the pillow it will slip in, and stay in place, as well or better than your original pillow.
THIS PHOTO IS OF THE NEWER AND DIFFERENT MOLD AND IS NOT WHAT YOU WILL RECEIVE FROM US. Please see the photos above for the pillow that is currently available.
**Please Note** If pins are removed from the pillow it becomes UNRETURNABLE for any reason, including fit or material failure.
See "Related Products" for other pillows in this set.
Other Details
Pillow Shape, Overall:
Rectangle
Product Reviews
2004 hawkeye eclipse 3 person hot tub/spa

Posted by James Collamer on Jun 22nd 2018

The large 2 pin pillow worked great and with a little pressure and a hit of the fist it locked right in